For the university to become a house of expertise that contributes to building a knowledge society and promoting sustainable development locally, regionally and internationally.
Producing scientific knowledge affecting society, by supporting integrated, discreet scientific research, and providing scientific consultations and training courses, to contribute to the progress and advancement of human kind.
Production and localization of knowledge in society, through research teams that are able to direct their scientific efforts towards serving humanity. Building meaningful integrative knowledge by employing and directing research efforts. Contribute to the development of human capital through research, consulting and training. Building bridges of scientific cooperation with the local, regional and international communities.
Increasing the number of high-quality produced research by 30% annually.
Building value-added research and advisory teams by 2026.
Increasing the number of beneficiaries of training courses by 50% annually..
Increasing the number of beneficiaries from participating in conferences and seminars by 30% annually
Directing research efforts towards benefiting the community.
Non-interference and influence in the conduct and results of scientific research.
Providing consultations that do not contradict the values and customs of society.
Respect intellectual property rights.
Teamwork.
Independence.
Organizational Chart Of the Research and Consulting Affairs.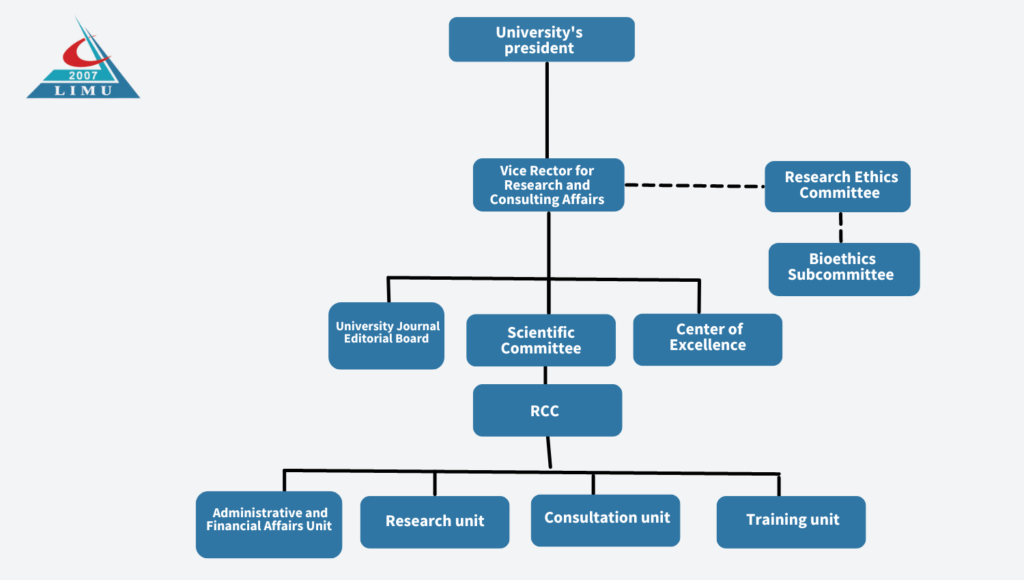 Vice Rector for Research, Consulting and Training Affairs